From the South African coast to the townships
Into the diversity of South African life
März 2023
To the University of Stellenbosch, with the night bus further to the south coast and then with the racing bike 1.000 km in 6 days along the sea and into the mountains. Total damage to the southern tip of Africa and still reached the Cape of Good Hope. Living in the township of Langa, in the slums of Cape Town. Incredibly diverse, but also torn.
Ubuntu
Humanity and community spirit:
"I am because we are."
Ubuntu is a philosophy of life in Sub-Saharan Africa.
Desmond Tutu: "A person with Ubuntu is open and accessible to others, feels affirmed by them rather than threatened, knows the abilities and goodness of others. One who has ubuntu has a distinct self-confidence that comes from knowing that he or she belongs to a greater whole."
Total breakdown at the southernmost point of Africa
At Cape Agulhas my rear derailleur breaks, the bike is a total loss. My night quarters are 60 kilometers to the north, too far to walk as it is soon dark. 
Thando the gas station attendant has a friend who can drive me. Kaya keeps his promise and comes after only two hours with his wife's car. God helped him to get off drugs. He does not want to become rich, but if his children, his wife have something to eat every day, he is happy. Maybe one day he will be able to buy his daughter the child's bicycle she has wanted so much. I thank him a thousand times, he saved me a very difficult night. I did not know that Kaya would write to me again the next day to inquire how I am doing and whether everything is all right.
The impossible becomes true
Ansa and Andre are already waiting for me at their house in Bredasdorp. "This gentleman helped me so much today" are my first words. I explain what happened and how much I am thankful to Kaya. Then I say goodbye to my helper and give him the necessary money for his daughter's bike. I have to use all my persuasion to make him take it.
At dawn we start for Stellenbosch and a highly interesting conversation about the situation in South Africa develops. The two take me to the bike repair shop where I picked up the box for the bus a few days ago.
They can fix the damage - almost - and I will have breakfast on the beach of Somerset West in a few hours. Yesterday still unthinkable.
Ansa writes to me twice more to ask if everything is okay and if I need any more help.
Contrasts
The white Dutch fight the black natives from 1652, then the British fight the Dutch. Both agree on racial segregation and lock the blacks up in townships. In 1994, Nelson Mandela became president, but the racial segregation has not changed much since then.
Discover
From Cape Town to Stellenbosch University. An adventurous ride on the night bus to the Indian Ocean. Up into the mountains and along Route 62 in a headwind to the southernmost point of Africa. The miraculous recovery from the total loss and on to the Cape of Good Hope. Back via one of the most beautiful coastal roads in the world.
George
I can find a room in Cape Town with George. He calls me a few days before departure to ask if everything is all right. In perfect Viennese. He comes to South Africa in 1964 as a technician after completing HTL, lives in Johannesburg at first, and founds his own company after only a few years. In 1967 he suffers an open leg fracture during a soccer tournament. The wound is poorly cleaned at the Groote Schuur Hospital, and after a few days his leg has to be amputated. In the same year, exactly there, Christiaan Barnard performs the first heart transplant. George continues to play tennis passionately for decades. Today, at the age of 78, he devotes himself entirely to his company.
I learn a lot from him about the apartheid era and the subsequent transformation process. Always with the remark that this is only his point of view. When I ask his wife, a Cape Malay woman, I probably get completely different answers.

Started without breakfast to exploit the daylight. Now the first in South Africa - great. Hot it is already, really hot it becomes at Franschhoek Pass.

I am particularly pleased to have been invited to Stellenbosch University as part of a major research project. Also because of the diversity of the partners, for example from Colombia, Thailand, USA and Australia.
Smacking babies and differential equations
The last days I was always with white people. Whether at the university, in the café or at dinner. Now I'm the only white person on the bus. Next to me sits a really big mom with her baby. It tastes so good the whole night that it smacks through. Behind me, a fan is watching soccer on his mobile phone, without headphones. In front of me, a fellow passenger is solving differential equations. The smoker in the back row soon realizes he doesn't have many friends.
I arrive in Stormsrivier at 4:00 in the morning. And then? Is it a lonely stop, somewhere along the trunk road? Actually, I always wanted to be in my accommodation by dark. After analyzing satellite images in preparation, I hope that the gas station has an open store. I get out as the only one and a stone falls from my heart when actually a light burns. Then the rain comes, but the relief that I am actually on the bike is so great that I enjoy it.
Route 66 leads through the former Wild West of the USA, Route 62 through the still untouched south of the Western Cape. I find a room in Calitzdorp, on Calitzdorp Street in the Guesthouse Calitzdorp. Angela also has this name and welcomes me right next to the smallest bar on Route 62.
In the afternoon I reach Cape Agulhas. It is an impressive feeling to stand at the southern tip of Africa. Opposite is the Antarctic, up to there only water.
On the way back from Cape Agulhas my rear derailleur breaks and stands up in the spokes. By the strong headwind I drove too long a wrong transmission. I bend it back and push to a gas station. There I learn about Ubuntu, the African philosophy of life of helping each other. That I will be back on the bike tomorrow is not imaginable.
Yesterday in the evening I did not know how to get through the night and thought the tour was over. Now I'm having breakfast on the beach at Somerset West.
On the drive from the seaside resort of Somerset West to the surfer's paradise of Muizenberg, I pass through the township of Khayelitsha. With 400,000 inhabitants, it is one of the largest in South Africa. Yes, I feel queasy.
Boulders Beach is my last accommodation in the False Bay area. In the middle of the penguin colony. Just in the year 1983 a pair was discovered. Until the year 2005 the colony of African penguins has increased a lot, since then it is decreasing significantly due to environmental destruction. The Jackass penguins are now classified as a particularly endangered species.
More storm than usual
At dawn I leave my last accommodation on the tour in Boulders Beach for the Cape of Good Hope. Ships sail around it widely to avoid being pushed up against the rocks. Also to avoid the dozens of shipwrecks. 
When I enter the area of the cape, I ask the officer on duty if there is always so much storm here: '"No, today is particularly strong". Also because of this I meet nobody except for an ostrich. A driving is often hardly possible, a getting off also not.
Chapman's Peak Drive is one of the most breathtaking coastal roads in the world. Between 1915 and 1922, the road was blasted into the 500-million-year-old rock.
Cape Town
Cape Town was the first city founded in colonial times. The historic city center is characterized by numerous Dutch and British buildings. But also by whole neighborhoods from which the locals were displaced to lock them up in township. Hard stuff for me is the V&A Waterfront district called "Disneyland" by locals. Built by a Saudi consortium only for tourists and the super rich.
St. Georges Cathedral and the Nurl Islam Mosques are close to each other. The remains of Desmond Tutu are buried in the cathedral. The mosques in Bo-Kaap are the places of worship of the Cape Malays.

Bo-Kapp is the historic center of the Cape Malay people, who trace their ancestry to Muslim South Asian slaves and contract laborers at the time of Dutch colonial rule. They settled the neighborhood in the 18th century after being freed from slavery. Today it is also known for its colorful houses.

District Six was populated primarily by freed slaves, traders, artists, laborers and immigrants. In 1968, the government ordered the forced relocation of blacks and Coloureds, the district was completely cleared, the houses demolished, and by 1982, 60,000 people were forced into townships.
The assignment of a person to a race is often made arbitrarily. Japanese become white 'honorary'. The consequences for life are serious.
Nelson Mandela saw South Africa as a '"rainbow state". 80% of the population is black, less than 8% white. The Coloureds also include the Khoikhoi and San, the first to populate South Africa.
In the V&A Waterfront district, Cape Town's No. 1 tourist attraction, everything is different from my previous trip. In this Disneyland, I encounter only tourists, Ferraris and luxury boutiques. It could probably be over all. From Ubuntu is no sign. I experience this only again on the following days in the township of Langa and its slums.
The Zeitz Museum is the world's largest museum of contemporary African art. It is built into a former 57-meter-high grain silo from 1921 and was opened in 2017.
Township Langa
Into the slums of Cape Town
Months of preparation to avoid zoo tourism. Chippa and Uwara show me the different neighborhoods and introduce me to residents.  I find night quarters with a natural healer and a bishop. I receive a friendly welcome everywhere. Yes, everything is different when you are really there.
My Uber cab does not want to stop, it is not '"safe" here. Then I manage to persuade the driver and meet Chippa, with whom I have prepared everything for months. His friend Uwara cycles with me through the different neighborhoods of Langa.
Shipment of the blacks behind the fence
It takes quite a while before I find an Uber cab to take me to the agreed meeting point in Langa. Whether I really want to go there, the driver asks me more and more as we approach. When we arrive, he initially declines to stop. It is not 'safe' here.
Langa is built from 1927 as a residential area exclusively for blacks, modeled on concentration camps. The passes issued specify where residents are allowed to move. Protests against this are put down by police in a massacre in 1960. Today, 50,000 people live here. Right next to it is a huge luxury golf resort.
Zoo tourism or creating work
Various operators offer tours in buses through some of the streets of Langa. Sometimes a detour is made on the way to the airport to quickly photograph the poverty of the residents through the car window. The inhabitants call this zoo tourism. That's exactly what I don't want. I find Chippa, he was born in Langa and lives there. His friend Uwara rides with me through different neighborhoods by bike and leads me to my sleeping quarters. The contact with the inhabitants is very close. They say I am welcome because I bring work.
Different social structures without envy
Ubuntu is also lived here. The type of living quarters ranges from thousands of tin shacks with toilets across the street, often called slums, to apartment blocks with endless satellite dishes, to a few single-family homes. No, there is no envy, says Uwara. Everyone feels like they belong together. George says even if residents of tin shacks find regular work, they have no chance of finding housing. There simply aren't any.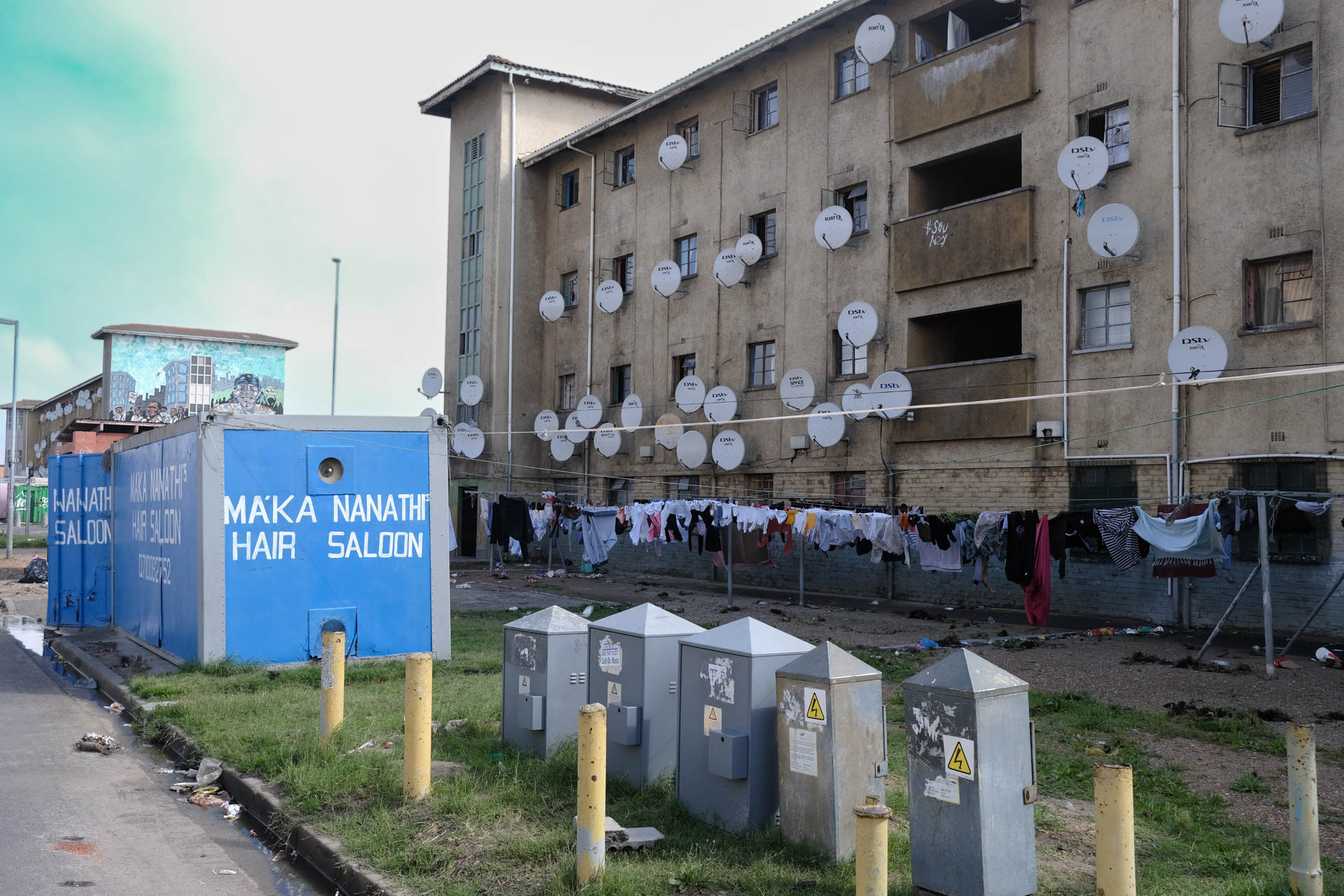 Unathi renovates houses and shows me the floor he has made from building leftovers. He is also a healer of Traditional African Medicine. He received his training from his ancestors and other healers. Payment is made only after the success of the therapy. In money or also with a chicken or a goat.
I use healing plants, diets and baths. Through incantations, I make gods and ancestors lenient.
Traditional African Medicine is promoted by the WHO to improve the basic care of the population.
Where is the compassion?
Yes, my impressions are one-sidedly positive. But these other, also existing sides of life in slums seem important to me. You can discover and learn so many positive things that you don't see in front of the TV watching a documentary about all the misery. Especially not while looking the other way. There are many kinds of poverty and wealth. Not only the material dimension.
People often ask me if I don't feel compassion when I travel. In fact, it is always difficult for me not to feel any. But it is never expected from the people concerned. Compassion is always also an evaluation, a looking down and judging. Empathy, on the other hand, seems to me to be very important. To meet the other person at eye level, to try to understand his/her situation, feelings. To put aside one's own ego, not to measure and judge with one's own values and norms. To leave the ethnocentric glasses at home. Maybe to send Bishop Quangiso 100 kg of beans and 100 kg of rice for his soup kitchen. 
All Tibetan Buddhism is built on empathy. The Dalai Lama was once asked if he was sorry for something. He could not understand the question. There is no word for compassion in the Tibetan language.
The second quarters are with Bishop Quangiso and his wife. His mission is to take care of the lives of the members of his community. This is a social work that is completely oriented to this world.
There are many local artists working in the workshop in Langa. I bring home a streetwire sculpture made of colorful wires.